ISCA UPDATE - OA IMAGES WEBSITE BACK ONLINE (OAImages.NET . . . not .com)
OAImages back online. Now as OAImages.net (so, make sure you use .net instead of .com).
Just a reminder that we're working to bring more functionality to the OAImages.net website as soon as we can. We are also aware that in building the new site, and recovering data and images (both of which some pieces were corrupted, in addition to the code itself), that there are some issues with the way the information is showing up. If you are looking at a lodge and see errors, please send as much detail as you can to: IscaOaimagesWebmaster@gmail.com.
April 5th Announcement . . . Just to update everyone about the status of OAImages (OAImages.net). As a lot of you know, the website was hacked and has been down for a while.
We have gone through a significant technology update and in order to get the site back online as quickly as possible, it has very limited functionality. We know that it is not what it was, what is desired, and what we want to provide, but it is back up online now and it works. We will be working to bring additional functionality back online as quickly as possible based on input from users with you telling us you want to see first/most. Please send your comments to: IscaOAImagesWebmaster@gmail.com and if you provide a bunch of wants, please prioritize them.
Some of you are also familiar with OAInsignia.com. We have been using this website for lodge editors to update lodges. Ultimately the information and images from both websites will be merged together (in a common database) and then the OAInsignia website will be used as a tool for the editors to directly drive the issue lists on the OAimages.net site. To sign up to be a lodge editor, you first need to register on the OAInsignia.com website and then send an email to IscaMasterListEditor@gmail.com stating which lodge(s) you want to be editor. Additionally, there is a tutorial on the ISCA website (ScoutTrader.org) in the catalogs section on how to update a new lodge including adding issues, adding images, making changes to the listings, etc.
---
NEW All - In - One Financial Support Package Unveiled
The ISCA Board of Directors is rolling out a new way for members to financially support the work of ISCA. With one gift, the new program provides the donor two or more of the following possibilities:
Click the button for details...

---
ISCA Through pictures
Brian Ives and others have assembled a nice collection of images of ISCA's involvement in the hobby!
Click the button to go to ISCA's Flicker page...

---
NEW Non-Members free Sample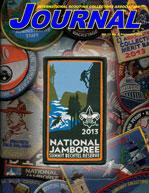 September 2013
A taste of ISCA. Features include 2013 National Jamboree wrap up and more...

...and if you like what you see, please consider becoming a member. Just click on the "JOIN NOW" button on the left. Cost is only $10.00 per year.
---
ISCA Policy Regarding Unauthorized Patches
During a conference call board meeting held Sunday, April 14th, 2013, the ISCA Board of Directors adopted the following revised policy in regards member's manufacturing/distributing Unauthorized Patches. The policy takes effect immediately.
Frequently Asked Questions
---
ISCA Roots Trace Back Almost a Half Century
The International Scouting Collectors Association was formed in 2001, when the American Scouting Traders Association (ASTA) and the National Scouting Collectors Society (NSCS) merged to better serve the collecting community. The previous organization were RECOGNIZED WORLDWIDE as leading Scouting memorabilia organizations, devoted to the preservation of the hobby. ISCA will surely follow in their footsteps. ISCA is a not-for-profit corporation with members from all fifty states and from many other Scouting countries. ISCA is operated by volunteer Scouters well experienced in collecting and trading Scouting memorabilia. Our primary purpose is to educate the membership and others regarding Scouting memorabilia and promotion of the ISCA Ethics.
"The ISCA Journal"
The "ISCA Journal", ISCA's quarterly publication featuring ISCA functions, Trade-O-Ree information, history of Scouting memorabilia, news of new patches issued, reports on TOR's, Letters to the Editor and lots more.
Trading By Mail
Expanding Your Trading Opportunities: Members can access a complete roster of current members giving their name, address, telephone number, e-mail address and their collecting and trading interests. There is also a 1 for 1 trading section in each ISCA Journal.
Trade-O-Rees
ISCA co-sponsors Trade-O-Rees around the country. These Trade-O-Rees provide an opportunity for the membership to gather for fellowship, education, displaying of collections and trading face to face. Meeting your mail trading friend can be an exciting experience. TOR's are listed in the ISCA Journal and on this website.
National Event Participation
ISCA takes a leading part in holding seminars, furnishing displays and providing information to new collectors and traders. These are done at Section Conclaves, National Order of the Arrow Conferences (NOAC) and other opportunities.
You Are Represented
ISCA has four Regional Vice Presidents in the USA. They coordinate activities through the Area Vice Presidents in the many states within their regions. Regional Vice Presidents are members of the ISCA Executive Board. Area Vice Presidents who are appointed by the Regional Chairs see that ISCA Trade-O-Rees are held in their area, seek new memberships, and keep us informed of hobby news and happenings in their area with reports published in the ISCA Journal or by furnishing information to our Column Editors. In addition, you are also represented by ELECTED national officers and an ELECTED Board of Directors.