ISCA UPDATE - STATUS OF OAIMAGES.NET WEBSITE PROJECT (11/2020)
Following is an update of where we presently are with respect to the OAImages.net project.
I think most people know that we are trying to do something for the good of the hobby . . . to benefit the collecting community. As has been stated before, we are a volunteer organization by and for the hobby, and if anything, we all potentially stand to gain if we can get this project to completion. The high level plan is that the base OAImages website with access to all of the descriptions & images will always be free to collectors to use as needed. Once that happens, then the plan is to modify the software platform slightly with different headings so it can then be used for CSPs, merit badges, belt buckles, rank insignia, uniforms, flags, books, etc., etc. If you collect something, then we hope to have a checklist so that everyone will know what is available.
We had hoped to have a new release of the OAImages software by Thanksgiving. That was the goal, but that is going to come and go without us doing a new release as we had hoped. Our main OAImages IT programmer just went in the hospital with a serious health issue (non-COVID) and we are wishing him well and a fast recovery . . . and hope to have him back in the near future. Thus, I can not really give you a full update as to status right now, since I can not talk with him to get an update. I do know (as of our last discussion), that he had just found a volunteer that could hopefully speed things up some. I do know that the editor functionality is what he was working on, but I do not know where he is at on that right now.
With all of that said, we will try to be more transparent in where we are at. I do know that we could probably use some more IT help, especially given the health situation noted above and also some more coordination help (for the content side of things) as well.
FYI, the OAInsignia.com website is still functioning (part of what we acquired from TSPA). People there can sign up to be a Lodge Editor and they can make updates to lodges including adding images and adding in new issues since 2006. All of the original Blue Book is there to build upon. The plan is that once the OAImages.net website gets to where it needs to be with an Editor capability, we will then shut down the OAInsignia.com website and we will then move everything including all of the updates and images over to OAImages doing a merger with what is presently in OAImages.net. The Lodge Editors will then be able to go in and confirm that everything merged well, etc.
So, if you have not already done so: 1) Become an Editor for lodge(s) in OAInsignia.com and make updates, etc. Visit there and sign up. 2) Check to see what is presently in OAImages.net and then add in what is missing in OAInsignia.com. 3) And then, when we get the Editor functionality in OAImages.net, switch over to that and confirm that lodge(s) for which you volunteered to be an Editor look ok.
We know this will still take some time, but we are hoping that it will all happen with your support. FYI, ISCA has spent a fair amount of money on this project and we are presently putting a big chunk of money in the budget for next year to hopefully speed this up some. If you want to look up a lodge, you should check BOTH OAImages.net AND OAInsignia.com. One or the other hopefully will have what you are looking for. And if not, then hopefully you will be patient . . . but it is ok to keep nudging us to work faster.
And If you wish to volunteer, become a Lodge Editor, have suggestions, want to just talk, feel free to send an email to: craig.leighty@gmail.com. See below for some additional information if you want to understand a bit more of how we got to where we are.
Following is some background, should you wish to understand how we got to where we presently are today (feel free to read or not. It maybe even more than you really want to know):
Early last year (it seems longer), we (ISCA) purchased the OAImages.com website and all of the images, etc. from John Pannell. We also purchased the Copyright ownership of Blue Book and the OAInsignia.com websites from TSPA. We already had a joint agreement in place, but it was considered better for ISCA to own everything and not have it be encumbered by a partnership with a dealer. Note: TSPA had purchased the rights to Blue Book from the Las Vegas International Scout Museum who had purchased the rights from Bill Topkis & Jeff Morley who owned it by way of the American Scouting Historical Society (ASHS). Yes, even though countless volunteers worked to create Blue Book, Blue Book was copyrighted/owned by the ASHS.
The plan has been and still is to continue what was originally put together by Bill & Jeff (with the countless volunteer local and regional editors) and John Pannells effort to put it on-line. Bill & Jeff considered the OAImages website Johns personal on-line collection even though they technically owned the copyright information that was in Blue Book and on Johns website. When TSPA purchased the rights to Blue Book, they put all of the listings onto a website (OAInsignia.com) and developed an Editor interface. Since it had just sat there for several years with nothing happening, ISCA entered into an agreement with TSPA whereby ISCA would develop/update the Blue Book rules, get Lodge Editors and TSPA would maintain the website. The website turned out to be quite clunky as some people referred to it, but it did work for the most part. It was apparent that it would never really be an adequate replacement for Johns OAImages website.
And since John Pannells website (OAImages.com) was not being maintained anymore, it was decided that it made sense to acquire it if John was amenable. He was and then the plan was to just add in a good Editor functionality to that and make it available to the hobby and get it updated. But of course, then we started really looking at the software/platform of OAImages. A volunteer came forward that had tons of IT experience, so he was given the go ahead to start doing everything that needed to be done to get it updated and make it available to the hobby. But then he/we started running into issues – the OAImages.com platform was unsupported and had been so for at least ten years, and we found that thousands of the files and images were corrupted with malware. The security for the website was essentially non-existent and we found all kinds of things, personal information from the pricing database had been accessed, and even a bunch of porn was found on the site. Initially, because of the instability of the platform being so old that we were afraid to do anything for fear that it would crash and nothing would be recoverable. We were able back up everything, but that included all of the corrupted images and malware as well. We also found that the images that were recoverable were hardcoded in John's website and the 100,000 images had to be converted to a different attachment process. Please understand that I am trying to describe this and I am sure there is a much more technical way of describing the issue. Thus, during this process, we are fully aware that some images are missing because of the transition to the new software and some are missing due to the fact that they were corrupted and not recoverable. When the site eventually crashed (actually turned off by the service provider since it was so corrupted, they told us that they could not allow it to operate), we opened up the bare-bones/work in progress OAImages.net website so there would at least be something available. If we wouldn't have purchased OAImages.com and started working on things, everything would have been lost to the hobby.
In parallel, we had the OAInsignia.com website, but we knew, as I stated above that it was pretty clunky at best, but it does have some updates for a lot of the lodges and as already mentioned, the OAInsignia.com website does have an editor functionality allowing Editors to go in and update lodges, add images, etc. The plan was and always has been (once the OAImages.net website is fully functioning with an Editor capability) to move/merge the data from OAInsignia.com with the data and images in OAImages.net and then have the Editors go in and make sure everything is ok and delete any duplicates that may occur in the merging process.
While all of this was/had been ongoing, Mark Scheiderer had volunteered to coordinate things from a content perspective. And of course, that is what it really is all about from a user perspective. We have struggled (and still do) with the priority of working on the software functionality versus the priority of adding in more/updated content. Our programmer of course wanted to work on getting functionality first (and finding/addressing more and more issues as he made progress) and Mark wanted content changes. Mark did a great job, but has moved on to other things. Mark was great with working with Editors and preparing for the merger of data/content when the software/platform would be finally ready to be what it needs to be. FYI, I am temporally filling in as the Content Coordinator for this project, but welcome assistance from anyone that has some time to devote to this effort for our hobby. Just send me an email (craig.leighty@gmail.com) and lets discuss. As Mark recently said, this has to be a team effort.
---
NEW All - In - One Financial Support Package Unveiled
The ISCA Board of Directors is rolling out a new way for members to financially support the work of ISCA. With one gift, the new program provides the donor two or more of the following possibilities:
Click the button for details...

---
ISCA Through pictures
Brian Ives and others have assembled a nice collection of images of ISCA's involvement in the hobby!
Click the button to go to ISCA's Flicker page...

---
NEW Non-Members free Sample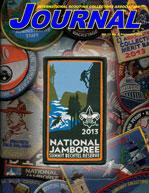 September 2013
A taste of ISCA. Features include 2013 National Jamboree wrap up and more...

...and if you like what you see, please consider becoming a member. Just click on the "JOIN NOW" button on the left. Cost is only $10.00 per year.
---
ISCA Policy Regarding Unauthorized Patches
During a conference call board meeting held Sunday, April 14th, 2013, the ISCA Board of Directors adopted the following revised policy in regards member's manufacturing/distributing Unauthorized Patches. The policy takes effect immediately.
Frequently Asked Questions
---
ISCA Roots Trace Back Almost a Half Century
The International Scouting Collectors Association was formed in 2001, when the American Scouting Traders Association (ASTA) and the National Scouting Collectors Society (NSCS) merged to better serve the collecting community. The previous organization were RECOGNIZED WORLDWIDE as leading Scouting memorabilia organizations, devoted to the preservation of the hobby. ISCA will surely follow in their footsteps. ISCA is a not-for-profit corporation with members from all fifty states and from many other Scouting countries. ISCA is operated by volunteer Scouters well experienced in collecting and trading Scouting memorabilia. Our primary purpose is to educate the membership and others regarding Scouting memorabilia and promotion of the ISCA Ethics.
"The ISCA Journal"
The "ISCA Journal", ISCA's quarterly publication featuring ISCA functions, Trade-O-Ree information, history of Scouting memorabilia, news of new patches issued, reports on TOR's, Letters to the Editor and lots more.
Trading By Mail
Expanding Your Trading Opportunities: Members can access a complete roster of current members giving their name, address, telephone number, e-mail address and their collecting and trading interests. There is also a 1 for 1 trading section in each ISCA Journal.
Trade-O-Rees
ISCA co-sponsors Trade-O-Rees around the country. These Trade-O-Rees provide an opportunity for the membership to gather for fellowship, education, displaying of collections and trading face to face. Meeting your mail trading friend can be an exciting experience. TOR's are listed in the ISCA Journal and on this website.
National Event Participation
ISCA takes a leading part in holding seminars, furnishing displays and providing information to new collectors and traders. These are done at Section Conclaves, National Order of the Arrow Conferences (NOAC) and other opportunities.
You Are Represented
ISCA has four Regional Vice Presidents in the USA. They coordinate activities through the Area Vice Presidents in the many states within their regions. Regional Vice Presidents are members of the ISCA Executive Board. Area Vice Presidents who are appointed by the Regional Chairs see that ISCA Trade-O-Rees are held in their area, seek new memberships, and keep us informed of hobby news and happenings in their area with reports published in the ISCA Journal or by furnishing information to our Column Editors. In addition, you are also represented by ELECTED national officers and an ELECTED Board of Directors.