---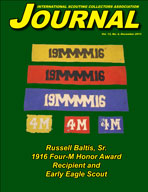 Latest Journal
ISCA MEMBERS - Click Here
to Access the JOURNAL On-line
---
Join or Renew Online!
You can join ISCA or renew your membership online. Payment can now be made using PayPal or Check. All information is sent via a secure server.
You may also submit a paper application (PDF file) if you prefer.
---
Now in the Members Only Section:
Membership Roster
ISCA Officer Position Descriptions.
---
Printable
OA and CSP Checklists
have been updated in the
OA and CSP Reference
sections.
---
New
ISCA Membership
Badges, Patches
and Back Issues
added to the ISCA Store.
Now Accepting PayPal to serve you better!
---
NEW ISCA Standard OA Insignia (and Memorabilia) Catalog
The International Scouting Collectors Association (ISCA) and The Scout patch Auction (TSPA) have formed a collaborative partnership to develop and maintain the next generation of Order of the Arrow issues catalog for the benefit of the hobby.
---
FREE TRIAL MEMBERSHIP
NEW ISCA announces a free trial membership if you have never been a member before. If you join ISCA now and use the promo code TryISCANow, you will receive a free membership in ISCA good through January 31, 2014. Make sure you check out some of the past ISCA Journals, the ISCA checklists in the reference section and the trade-o-ree calendar. Click the button to join now.
---
ISCA and TSPA Partner for Boy Scout OA Catalog
NEW Dallas, Texas, June 27, 2013 - The International Scouting Collectors Association (ISCA), and The Scout Patch Auction (TSPA), announce a new collaborative partnership to develop the next generation of Order of the Arrow issues catalog. At its' June 23rd meeting, the ISCA Board approved the agreement in the final step to move this effort forward.
Click the button to find out more...
---
CSP Collecting Guidebook to be Published by ISCA
The International Scouting Collectors Association (ISCA) and the authors of "An Aid To Collecting Selected Council Shoulder Insignia with Valuation Guide" are pleased to announce that all future editions of the Guide will be published under the auspices of ISCA.
Click the button to find out more...
---
---
ISCA Policy Regarding Unauthorized Patches
During a conference call board meeting held Sunday, April 14th, 2013, the ISCA Board of Directors adopted the following revised policy in regards member's manufacturing/distributing Unauthorized Patches. The policy takes effect immediately.
Frequently Asked Questions
---
ISCA Regional Coordinators
Regional coordinators are responsible for coordinating all ISCA related activities and promotions within their respective BSA territorial regions.They will establish and maintain a network of area coordinators to promote the hobby at the local level. They are first line contacts for members in their respective regions.
Contact your Regional Coordinators to volunteer and learn more.
NORTHEAST REGION
Greg Anthony
greg.anthony@hp.com
SOUTHERN REGION
Jon Hall
camper481@aol.com
CENTRAL REGION
Kory Lewis
broadkawvalley@gmail.com
WESTERN REGION
Rick Bedsworth
kwtrdr@gmail.com
---
ISCA Roots Trace Back Almost a Half Century
The International Scouting Collectors Association was formed in 2001, when the American Scouting Traders Association (ASTA) and the National Scouting Collectors Society (NSCS) merged to better serve the collecting community. The previous organization were RECOGNIZED WORLDWIDE as leading Scouting memorabilia organizations, devoted to the preservation of the hobby. ISCA will surely follow in their footsteps. ISCA is a not-for-profit corporation with members from all fifty states and from many other Scouting countries. ISCA is operated by volunteer Scouters well experienced in collecting and trading Scouting memorabilia. Our primary purpose is to educate the membership and others regarding Scouting memorabilia and promotion of the ISCA Ethics.
"The ISCA Journal"
The "ISCA Journal", ISCA's quarterly publication featuring ISCA functions, Trade-O-Ree information, history of Scouting memorabilia, news of new patches issued, reports on TOR's, Letters to the Editor and lots more.
Trading By Mail
Expanding Your Trading Opportunities: Members can access a complete roster of current members giving their name, address, telephone number, e-mail address and their collecting and trading interests. There is also a 1 for 1 trading section in each ISCA Journal.
Trade-O-Rees
ISCA co-sponsors Trade-O-Rees around the country. These Trade-O-Rees provide an opportunity for the membership to gather for fellowship, education, displaying of collections and trading face to face. Meeting your mail trading friend can be an exciting experience. TOR's are listed in the ISCA Journal and on this website.
National Event Participation
ISCA takes a leading part in holding seminars, furnishing displays and providing information to new collectors and traders. These are done at Section Conclaves, National Order of the Arrow Conferences (NOAC) and other opportunities.
You Are Represented
ISCA has four Regional Vice Presidents in the USA. They coordinate activities through the Area Vice Presidents in the many states within their regions. Regional Vice Presidents are members of the ISCA Executive Board. Area Vice Presidents who are appointed by the Regional Chairs see that ISCA Trade-O-Rees are held in their area, seek new memberships, and keep us informed of hobby news and happenings in their area with reports published in the ISCA Journal or by furnishing information to our Column Editors. In addition, you are also represented by ELECTED national officers and an ELECTED Board of Directors.